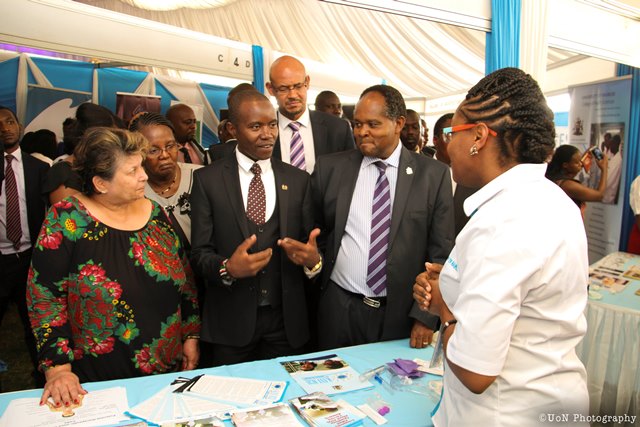 Cabinet Secretary for the Ministry of ICT and guest of honour Mr. Joe Mucheru (centre), poses a question to research scientist Dr. Marianne Mureithi (far right) at the KAVI – ICR stand during the Nairobi Innovation Week 2017. With him are (L-R) University of Nairobi's Chancellor, Dr. Vijoo Rattansi; Ag. Chairperson of the University of Nairobi Council, Ms. Pascalia Koske; Managing Director/CEO of Barclays Bank of Kenya, Mr. Jeremy Awori; and University of Nairobi's Vice Chancellor Prof. Peter Mbithi.
"Innovation is about creating change that adds value," opened the Master of Ceremony Wallace Kantai at the new Manu Chandaria auditorium. The theme of this year's Nairobi Innovation Week held at the University of Nairobi's main campus on University Way is "Innovation to solve pressing local and global challenges". Members of the public and private sector, academia as well as stakeholders young and old gathered from Monday the 6th of March to Friday the 10th to listen to, experience, show-case and discuss ideas, products and approaches relating to this year's focus.
The University of Nairobi, represented by its six colleges (Agriculture and Veterinary Sciences; Architecture and Engineering; Biological and Physical Sciences; Education and External Studies; Health Sciences; Humanities and Social Sciences), presented inventive approaches to solving challenges with their respective expertise and collaboratively.
KAVI – Institute for Clinical Research (KAVI-ICR) represented the College of Health Sciences, exhibiting some of its leading translational research, which is laboratory research for clinical treatment and community health.
The institute is at the forefront of stem cell research in the region, having successfully isolated and cultured adult stem cells for therapeutic use. So far, they have collaborated with plastic surgeons to apply the cells for accelerated wound healing (for severe burns or chronic wounds associated with diabetes for example).
Researchers at KAVI-ICR are also currently studying a treatment for sickle cell anaemia involving the re-generation of healthy red blood cells from stem cells. The potential applications of this therapy extend to the treatment of – among others – diabetes, arthritis, blindness, stroke and multiple cancers.
HIV vaccine candidates presently in clinical trials focus on imitating the vaccine and eliciting an immune response in the human body, thereby providing protection and memory should an individual be exposed to the virus thereafter. The institute is studying a different approach: mounting protection against HIV at the initial point of contact in the case of unprotected sex. The target is the mucosal lining of the reproductive organs, i.e before systemic infection.
Both of the projects are in line with Kenya's Vision 2030. Eventually gearing towards the creation of a centre for stem cell research and regenerative medicine (SCeReM), KAVI – ICR with its collaborators aim to contribute to the development of medical tourism, built on a culture of well-delivered, evidence-based solutions.
The innovations from the week addressed challenges we as a country and as stakeholders in the global scene grapple with, including food and nutrient security, health, youth unemployment and economic access. The meeting of creative, pragmatic and curious minds at the Nairobi Innovation Week continues to serve as a catalyst for driving change through innovative solutions.
By Joy Muthure - jmuthure@kaviuon.org