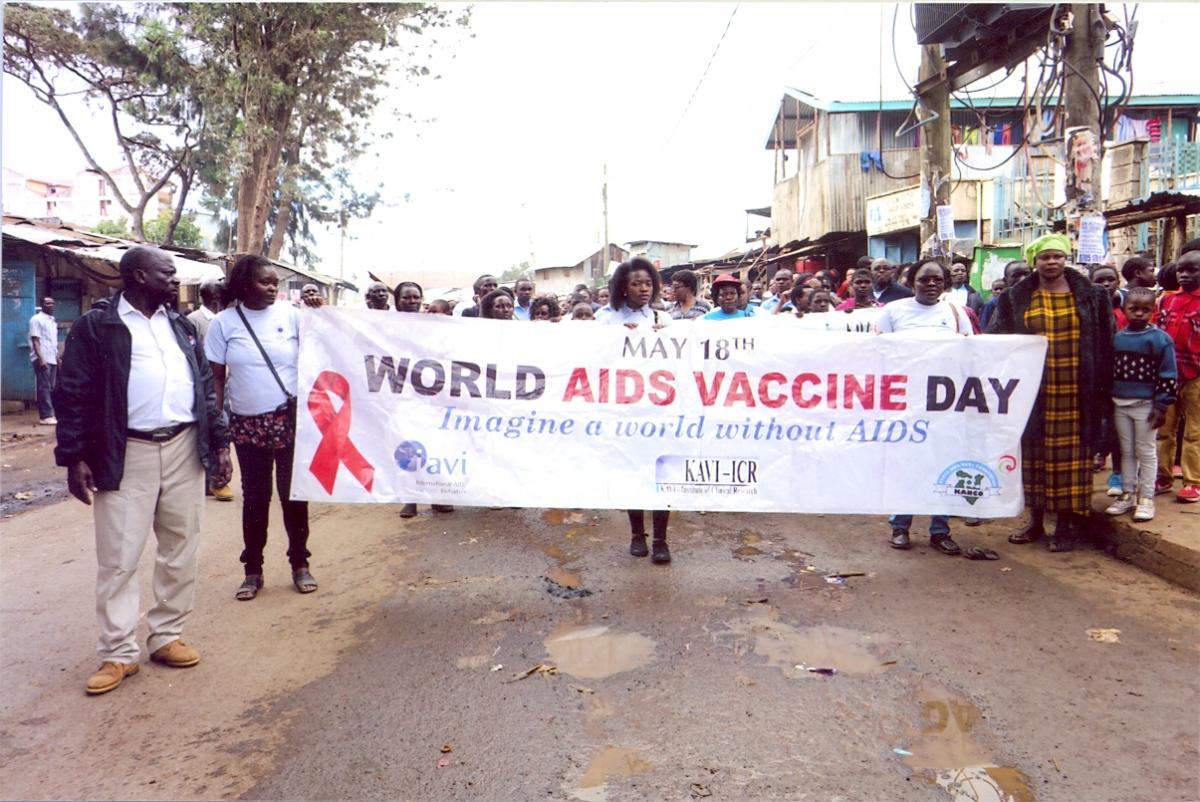 "Only a truly effective, preventive HIV vaccine can limit and eventually eliminate the threat of AIDS."
- Bill Clinton
This declaration was made by the former U.S. President on the 18th of May 1997. Twenty years later, KAVI-ICR joined the global commemoration of World AIDS Vaccine Day on Thursday, holding an event at the NYS grounds in Kibera. The day celebrates the valiant efforts of volunteers, researchers, policy makers and others responsible for the development and discovery of an HIV vaccine.
The day saw lively entertainment, speeches as well as thanks-giving and awareness messages. KAVI-ICR partnered with Paradise Children's Home as part of their social activities, donating a water tank, food and books to cater for the needs of the forty seven children the founder Ms. Pamela Awino cares for.
A walk led by the Salvation Army Band kicked off the morning, while some KAVI-ICR staff conducted a clean-up of the home. Staff, participants and members of the community then gathered at the NYS Grounds, where the – humorous – Master of Ceremony Thaddues led us through the activities. After a word of prayer and a brief welcome from Mrs. Sharon Lipesa, a community liason officer and key organiser of the event, the crowd was treated to song and dance, comedy skits and poems by several groups. Among them were the Zangalewa troupe, Wasani Sanaa, the Kibera Changing Times Band and Kawangware Children's Garden Home, an entertaining and thought-provoking line-up of talent.
We were inspired by passionate and positive young people, all with joy and great determination. The chief of Sarang'ombe –a ward in Kibera – Mr. Abdiwahab Abdi Abdullah, stressed the value of good education and strong community ties, after which Dr. Borna Nyaoke spoke on behalf of the Director of KAVI-ICR, Prof. Omu Anzala.
"It is important we continue the conversation about HIV and prevention. We are doing the research to find an HIV vaccine, and you have been and continue to be very important as we journey together and make progress towards achieving a world without AIDS," Dr. Borna said.
The chief guest and Assistant County Commissioner Mr. Jesse Githae expressed gratitude to Ms. Awino for her generosity, stating that children need champions to fight for their basic rights to food, shelter and education. "HIV/AIDS is a plague in our society. The government has a duty to ensure that our citizens are in good health. It is also each of our duty's to care for our health, because the responsibility of our country rests on our shoulders," said Mr. Githae.
After the presentation of donations to Paradise Children's Home, Mrs. Roselyne Malogo gave a vote of thanks to all those who participated. Indeed, World AIDS Vaccine Day is but one day to support and recognise the dedicated efforts of individuals and groups across the globe making a collective stand against HIV and AIDS through the development of an HIV vaccine.
Photos Here [1]
By Joy Muthure – jmuthure@kaviuon.org [2]